27 March 2020
DP World Limassol unveils Digital Payment Solutions
Convenient and flexible solutions for customers
Limassol, Cyprus – 27 March 2020: DP World Limassol announced the launch of two new digital payment solutions to be applied across the business for all of its customers through the JCC Portal, allowing for convenient and secure ways in conducting transactions. Customers will be able to carry out payments through JCC's online portal* while any invoice can now be paid through JCC Smart methods.
DP World continues to strongly encourage the use of digital channels and services in an effort to reduce unnecessary exposure during the global COVID-19 pandemic.
DP World Limassol CEO, Nawaf Abdulla said "Our customers are at the heart of everything we do. DP World Limassol constantly strives to make life easier and more convenient for our customers with a seamless experience while continuing to deliver the same level of service excellence".
He continued "The safety, health and wellbeing of our employees, partners and customers has always been our top priority. Since the outbreak of COVID-19, we have been facilitating remote work, while we are at the same time adjusting to minimise business disruption. These new payment systems reduce the need for physical transactions to be made therefore reducing unnecessary exposure for customers and staff."
DP World Limassol has activated robust contingency plans to ensure service continuity for our customers. Currently, all trade enabling activities and quayside operations are being carried out as normal. DP World Limassol will continue to seek guidance from public health officials and government agencies on an ongoing basis.
*Relevant step by step instruction manual is found in link here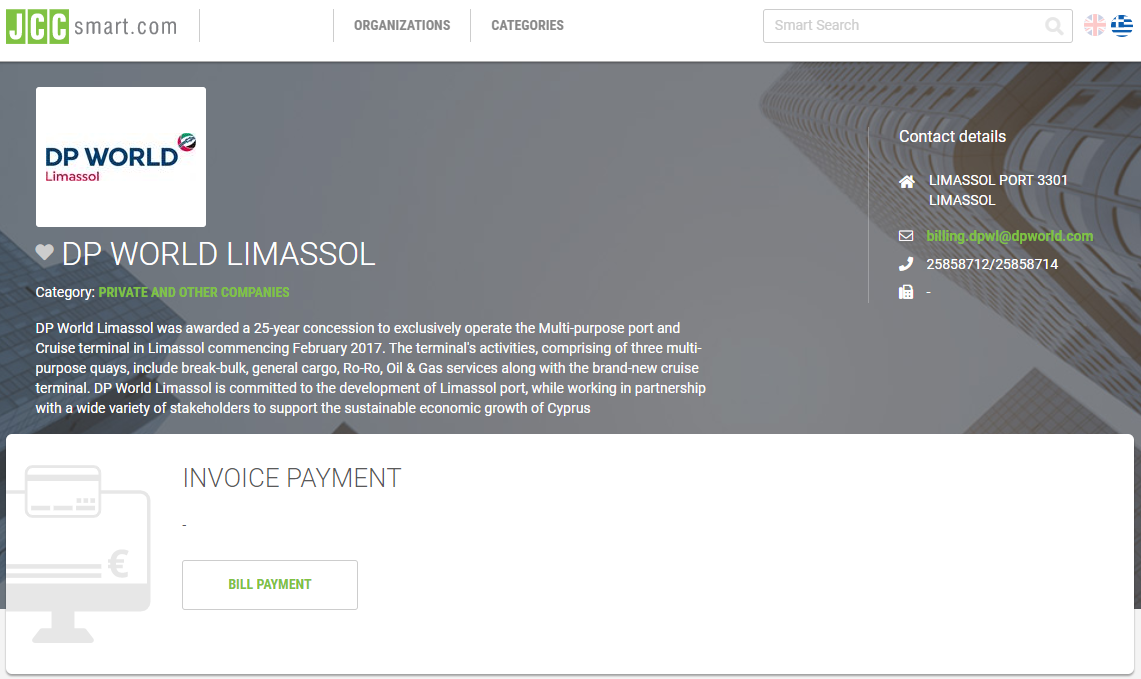 -ENDS-
For DP World Limassol media enquiries and images please contact:
Doros Aresti
Communications and Sustainability Officer
DP World Limassol
Tel: +357 25858701
Follow DP World Limassol on:
Website: www.dpworldlimassol.com
Twitter: https://twitter.com/DPWorldLimassol
LinkedIn: https://www.linkedin.com/company/dp-world-limassol
Facebook: https://www.facebook.com/DPWorldLimassol
About DP World:
DP World is the leading enabler of global trade and an integral part of the supply chain.
We operate multiple related businesses – from marine and inland terminals, marine services, logistics and ancillary services, to technology-driven trade solutions.
Our portfolio of more than 150 operations in 46 countries across six continents gives us a significant presence both in high-growth and mature markets.
DP World's dedicated team of more than 50,000 employees from 120 countries builds enduring relationships with governments, shipping lines, importers and exporters, communities, and many other essential constituents of the global supply chain, providing quality value-added services today and tomorrow.
Container handling is the company's core business and generates more than half of its revenue. In 2018, DP World handled over 70 million TEU (Twenty-foot Equivalent Units) across our portfolio. With a pipeline of committed developments and expansions, we expect the current gross capacity of 91 million TEU to rise in line with market demand.
By thinking ahead, foreseeing change and innovating, DP World aims to create the most productive, efficient and safe trade solutions globally. We aim to be essential to the bright future of global trade, ensuring that everything we do contributes positively and sustainably to the economy and society.